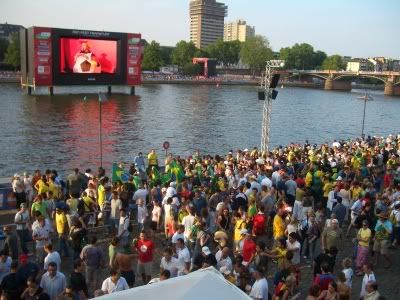 Just 2 images while i have easy free, english keyboard internet access at the hostel. I will get them up hi rez on the fotki site when I get a chance, but night is about to get going here in BCN its 1934 and the spain game is at 2100.
Now that is a TV. Suppose to be worlds largest screen, 160 Meters square, not sure how many inches that is. Made by Phillps. I wonder if they sold it how much they would chrage, Rhine river not included. This is was from the end of the Brazil vs Aussie game viewed at the public area in Frankfurt. Its amazing how Brazil fans are everywhere, no way more than half of the people in brazil colors there were actually from Brazil, but everyone loves them. I must say in the past I have rooted for them, but now i´m in strict underdog mode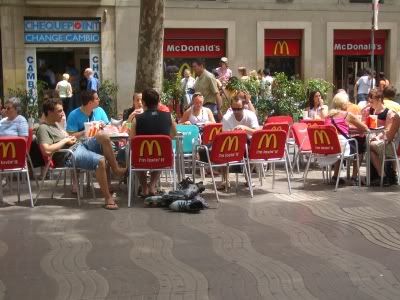 Are you kidding me, an outdoor McDonalds cafe on La Ramblas in Barcelona.. Who in their right mind in a city of food would eat there, oh yeah fat americans, my bad.. Evil Corporate america gone worldwide...