The title is the question I asked before doing my first ever shot of Absinthe. The legend is probably more famous than the actual drink, as no I didnt see any Fairies, its probably no worse than 151(what up CJ!!), or Jamaican overproof rum, but you can judge for you self at this nicely done Wikipedia Entry here
Absinthe
. I was at the Hostel with cool Irish and Dutch dudes, who live here and they broke out the bottle of Cannibis Absinthe, next thing i know spoons have sugar and are on fire and we are drinking green liqour. It was good, nothing that killed me, the many rounds of beer later probably killed any green faires that were going to dance in my head.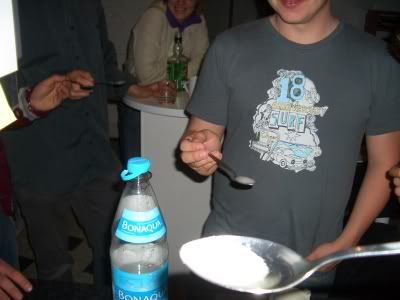 So I had met these cool German dudes at the Hostel in Finland who were living in Estonia, and I called them last night when they got into town and I must say it was a pleasure to hang with them. Wherever we went, which were basically the same bars as the previous night(Hell Hunt, Cafe Havana), the bars were more packed and they seemed to know everyone, French guys, Austrian guys, German Girls, even a few natives. So it was an ex-pat hang out night. Hell Hunt was still on point, as you can see by the menu, indulged in a PALM, a great Belgian beer, i've never seen anywhere outside of Belgium, dark beer, tastes like Bass(yummy), but not quite as dark, goes down well and considering its before noon as I type this, no hangover issues.
After Hell Hunt, walked down the block to Cafe Havana, was planning on getting a Cuban and a nice shot of whiskey, but the Cubans were over 15 Euros, i'll have to wait till I hit the real Havana till I have a cigar, or Montreal as I know the Cigar place on Berry St. Havana was more packed, including a few more of Rene(cool German dude) friends, it was 2 for 1 all night cocktails, so I bought a round of Long Islands for some people, and TG before you ask, HELL NO i didnt drink that drink of death, I stuck with the beer(A. Le Coq). Finally more american music than previous night and more crowded. One of the cute waitress was in awe I was from NYC, I'm like honey its not all its cracked up to be, you dont want to pay 7 bucks for a beer every night, stay here...
Finally made it to Nimeta Baar(Pub with No Name) that I had read alot about in articles about Tallinn. It was a cool spot, decent music, I walked in and they were playing Missy Elliott "Work It" so I felt like back at home. I've been told a place to watch a football match, and England vs Jamaica is today at 1600, you know i'll be rooting for my Granny Rita's home country, go Reggae Boys!!
Oh yes, a place I spent a good part of the afternoon, well here with the sun up till midnight, and then back up at 230am its hard to tell what is day,night,afternoon, but it was post work 5pmish happy hour. Was this bar called Joujaam. It translates to High Tension Power Line, i'm not kidding. Its an electric themed bar, anyway a very nice wait staff, .5liters of A. Le Coq for 35EEK, and pleasant bar staff. The owner was not there, he lives in Detroit part time, god bless his soul for being one of the few who will stay in that hell hole. But his waitstaff are very friendly, it was the first english of the day for me, and this was at 5pm so that was lovely. Check them out. That is from Left to Right. Kairat, Kaja, and manager Janika.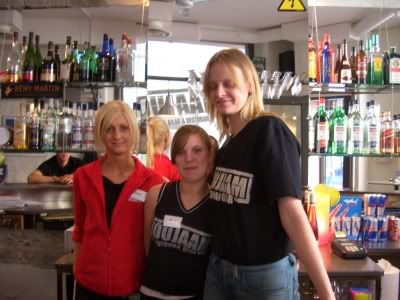 If ever in Tallinn visit them, the address is Vaike-Karja 8. Yeah i know it seems hard, but its right around the corner from the famous Club Hollywood. I might go there tonight, as its Rene's birthday so we are going to try to get a German drunk, if that is possible.
Pictures are coming, this internet as the Hostel is very slow, once i find some fast internet, i'll have plenty of them.. Oh looking at ESPN news, as you know I cant lay off.. Go Edmonton in the finals, Canada needs a Cup winner after all these years.. Miami in the Finals?? damn I dont want Zo to get a ring, so i'll be rooting for the West whoever makes it out.. T.O? All smiles at Practice, I guess that first check cleared nicely from Jerry Jones. And most important of all Remember USA vs Czech republic June 12th, The czech lost one of their better players to injuries and others are hurt. We can do this man.. Dont tread on me!!