Ok its taken me a few days to get all my thoughts together on the disaster in London Wembley Stadium from last Wednesday. I will say i'm sure all bars in the country did a bang up business and no one went to work on Thursday. Basically you can blame the problems on England's national team on many things, but i see as it comes down to the fact nations of the former Yugoslavia beat the snot out of England and caused the loss.
The game itself was a great game, my P2P connection did not kick in well enough to watch till about the 18th minute, by the time that England was already down by 2 goals. While I thought all hope was lost, the half-time substitution of Mr. Golden Balls himself David Beckham can be thought of as saving things. A few points first... What the HELL was the deal with the condition of the field/pitch? for a 1.6 BILLION dollar newly opened stadium the grass looked wrecked, spotty and the cold rain made it play like ice. They love to claim that Wembley is the largest stadium with all the seats covered, ok so great the fans stay dry and the pitch turns into an ice rink. While the first goal was a total disgrace of a goal that Carson gave up, it skipped like a hockey puck at an NHL game. The NFL game was over 3 weeks ago, plenty of time to replace the sod. Next up what is the use of having a lone striker in Crouch if you dont have anyone to deliver the ball to him, it was only when Beckham in the 2nd half could feed him good crosses. Regardless England lost, they are out of Euro 2008, and suspect for World Cup 2010 qualification. Now onto the reasons the breakup of Yugoslavia has been horrible for England.

In 1991 when Yugoslavia broke up as a country and started upon a path towards a genocidal war complete with good old fashion ethnic cleansing it broke into what is now 6 or possible 7 countries(If Kosovo get full independence).

We have Slovenia which feels more like its neighbor Italy than communist eastern bloc russia, I had a blast in Slovenia i recommend anyone to visit there, and if you wanna party check out the nightclub Global and the cute dancing Slovenian girls.


Ok back to thinking after that needless whail tail shot.

Next up we have Serbia which boasts a quality team that qualified for the 2006 World Cup and are no slouch themselves as they did not make Euro2008 but were in a group with Portugal, Poland and Finland all who finished with over 24 pts. As a city the capital Belgrade is a great party city with their barges, but i must say the sight of bombed out buildings that were bombed by the good ole US of A that are still standing years later felt sort of post-apocalyptic movie set.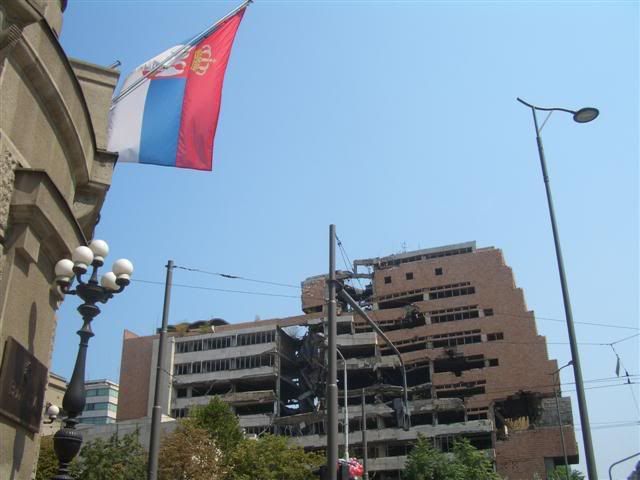 Bosnia and Herzegovinia is another of the former countries and its capital of Sarajevo is one of the most historic in the 20th century, being the city that Archduke Franz Ferdinand of Austria was shot and killed leading to World War I, and the start of a century of war and death. Most people of my age remember it as the host of the 1984 Winter Olympics featuring american Bill Johnson winning the gold medal in the downhill, a virtual unknown at the time he jumped onto the world scene, take a lesson from him Mr. Bode Miller. Sadly Johnson as i recently saw him on Real Sports with Bryant Gumbel has gone thru a whole lot of hell in his life since 1984, sort of like Sarajevo. Sarajevo is a lovely city located in the valley with outdoor cafes on almost every street with great views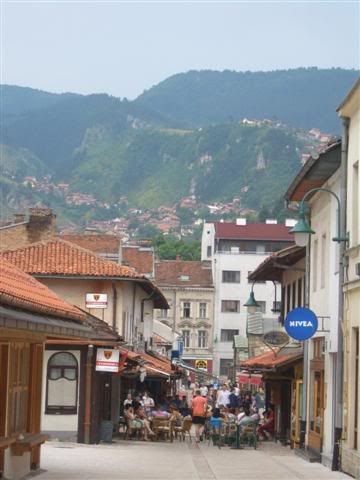 It was also the scene of some of the worst crimes during the Balkan war. It has recovered and is totally peaceful now, but yet every mention of the country in the news media seems it has to have the adjective "war torn" before mentioning the name. It has totally since recovered and the women of the town are some of the best dressers i saw in all of eastern europe. Great beer and pizza also, worth a visit but a mid-table soccer team.


Montenegro just became a sovereign country in 2006 and is technically the newest country in the world, in fact which i saw recently on final jeopardy and I knew the answer, yeah sitting at home doesn't win ya anything so big deal. I have no visited, but have talked to people that the beaches on the Adriatic sea are not as crowded as neighboring Croatia, and that the city Bar is up and coming and shit just from the name only sounds like a town I need to visit. People have described it as the next big thing for beach town, so get in there now and buy up as much real estate as you can. As for a football team they have just begun competing in UEFA, so not sure how well they will fare.


Now comes the countries that caused England to stay home Croatia and Macedonia. In 4 games against these teams England managed to earn 4 of a possible 12 points. The worst game had to be the 0-0 draw vs Macedonia at HOME at Old Trafford. In the span of 5 days in October of 2006, this draw and a loss at Croatia and at this point England should have fired Steve McClaren. The next game was not till March 2007, giving them 5 months to get their shit in shape, but nope.


I went to Croatia and while it was one of the countries I was most looking forward to, I must say I was disappointed. I should have managed to travel the extra miles and gone to Split or Dubrovnik. If you are looking for the fun summertime party, DO NOT HEAD to Pula. I arrived in August and it was full on family vacation season, cars from every country in Europe were in parking lots all over town. The Hostel had an amazing location on the water outside of town, but there were no bars really in easy access for nighttime drinking, thankfully the hostel served big liter bottles of beer . The water was the clearest water i've ever seen, but it was one of the rocky european beaches that I dread. Pula the city was great with its ancient roman ruins.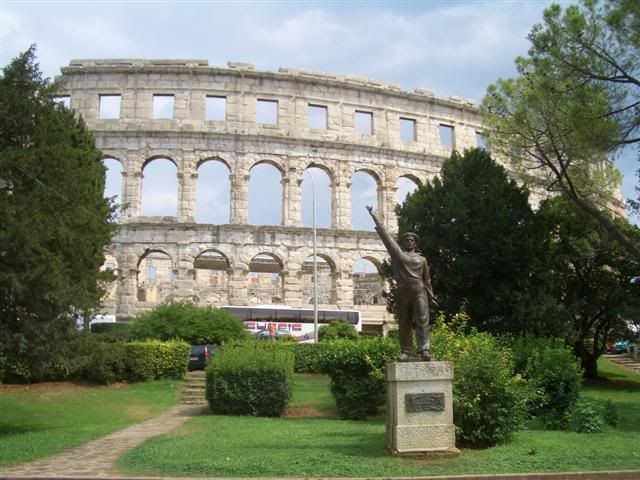 As for a football team Croatia is a top class European side. Their 3rd place finish in the 1998 World Cup surprised everyone, and they qualified for both the 2002 and 2006 world cups. They are in the same group as England again for the 2010 World Cup qualifying and you have to expect them to be the favorite top seed. A second place finish from England in the group would get them into a playoff. Expect great games between England and Croatia for the 2010 qualifying campaign.


FYR Macedonia (Former Yugoslav Republic of Macedonia) is a country that I did not visit and don't know much about the cities. Its landlocked so no beach action, its capital is Skopje, a city that strangely enough I know in my head as my father has played a song called "Nights of Skopje" before. Possibly on a future trip to Greece or Albania I will stop by this country but as of now I dont know enough to talk about it.


So there ya have it, a breakdown of the 6 former Yugoslav countries and my thoughts. They have defeated all the hopes and dreams of England, looking back this might finally get them a good manager and no longer give spots in the starting 11 to old guys who don't deserve it.. can you hear me John Terry, Frank Lampard and Steven Gerrard???? Next summer the Euro2008 will still be well watched, great games and a blast of a time, even without 50,000 drunken Island people invading the European Continent..