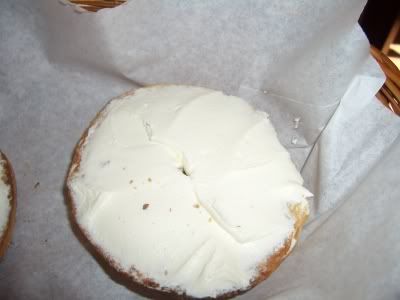 That song from like 10 years ago, I would walk 500 miles is in my head, maybe cause I felt like I did walk 500 miles this morning to get a bagel with cream cheese.. But damn it was worth it. Some things about being away from home you dont realize you miss until you have them, and an early morning bagel with cream cheese to fight off the hangover is just what the doctor ordered.. along with 1.5liters of water...
Ok this will be a short post, as today i am on a bus to budapest, 8hrs. i will miss the France vs Portugal game, but go France, go Thierry Henry, he is my hero. I was upset that Italy won, they have played so dirty, with the falling on ground and crying stuff all the time, but oh well shit happens. It must be sad in germany today, but they I am sure are drowning their sorrows with beer.
Last night was fun, partying with the people at the hostel, a crazy bunch of irish girls from Dublin, me the american, a couple of canadians, and naturally the polish men who folck to the girls from Dublin. In fact now I think I might have to goto Dublin, its on a damn island so its hard to get to, but if time permits I will have a drink in ireland, hell its on my card, i need to get there.. Ameila and Rachel, if you are out there reading, stay in touch, and tell me where to go in Dublin, as I said I only know the Pod, since Prince played there in 95.
Oh one last thing, there is a Da Vinci painting here at the museum in Krakow, about to run over there and look. I read there are only 5 cities with Davincis in the world, If you have seen the movie then you know that Rome/Vatican and Paris are 2, Krakow is 3.. can anyone name the other 2.. No prize, just a big shout out to the winner. Alright, hope the 8hrs on the bus to Budapest is worth it.