I went to Poland on 2 occasions, and each was totally different as the cities are like night and day. I flew on WizzAir from Lithuania to Warsaw on June 9th, the first day of the World Cup. I only stayed in Warsaw for one night before flying on to Germany for the first USA match. Warsaw was basically a pit-stop of sorts, a lot of discount airlines fly in and out of there, but the schedules didn't allow me to change planes the same day so I ventured into town for a night. It was an early morning 6am flight, so I was in Warsaw by 8am and at the hostel. I stayed at Nathan's Villa Hostel in Warsaw, Nathan's villa is about as close to a franchise in the Hostel world as could be, with other locations in Krakow, and 2 in Romania. It was a very nice place, but due to my early arrival and how full it was I could not check in till past noon, so despite wanting to sleep I had to wander around town for a while. This was my first experience with not being able to get straight into a room at a hostel, and was a good learning experience for the future. If you are going to arrive before Noon, don't be tired, hungover, hungry etc as there is a chance it will take a while till you can check in.
To kill time I walked around Warsaw, I must say Polish people are a very religious people and Warsaw has plenty of churches to go and pray. Seems like people would just walk by a Church and go, have a quick prayer and then continue on their day. The city is fairly walkable with some main avenues that you can follow and its almost a grid system, so its easy to walk around and find you way. I must say not much of the architecture impressed me, but this could be since the city was heavily damanged in WWII and had to be rebuilt, not much from the past was left. They did seem to have a lot of statues/monuments all around town, seemingly every few blocks.
This was the first day of a new schedule for me, that revolved around the World Cup, basically for the next month my days would consists of being in front of a TV to watch games, and then going out somewhere at night. I met a cool dude from Namibia and we went out to a bar to watch the Poland vs Ecuador game. Found this place called Tortilla Factory that was run by an american dude from Chicago, nice place with TVs and naturally it was packed with Polish fans all dressed in Red. Poland lost the game and would soon be bounced from the World Cup in the group stages, the mood of Warsaw seemed to change that night. Myself and my friend from Namibia befriended an american and his polish girlfriend, they told us a few places to go and hang out, thankfully we caught a cab with them to the first spot, so we were charged the normal/non-tourist rip off rate. None of the bars would let us in, not sure if it was a racist thing against me, which I felt at the time that it was, or just whatever, but if they didn't want my tourist dollars fine I'd take them somewhere else. For my friend Otwin from Namibia who was a white dude this sucked, his main mission was to get laid. There is close to a 45% rate of infection of HIV among the women on Namibia, so while in Poland on a short break he wanted to get some action. I think he struck out the this night, and since I left the next day, no idea if he was able to accomplish his mission. The cab ride back to close to where our Hostel was, the driver charged us the tourist rate and it was about 3x as much as the first cab ride. It was still cheap compared to a cab in NYC, but still not a good feeling knowing your getting ripped off but couldn't do anything about it.. The combination of not getting into any places, being ripped off, etc left a bad taste of Warsaw in my mouth. Thankfully Krakow restored faith in Poland for me.
The currency in Poland is the Zloty. The exchange rate is about 3 Zl for 1$, and this was the first of what would be a string of very cheap countries. The beers are good and strong, the main brands being Tyskie and Zywiec. Both good golden lager beers. But if you wanna get hammered in Poland, drink the Vodka, its no joke folks, strong and cheap..
I went to Krakow at almost the end of the World Cup arriving on July 3rd, I took an easyjet flight from Germany that was cheap and quick, well worth the cost. Arrival in Krakow was difficult at first, as the main bus/train station is under construction so since the bus stopped at the back of it, I didn't know we were at it and missed it, took me a while to get back to it on the return bus, but the main old town square was easy to find. I stayed at Mama's Hostel which is like 50 meter from the old town square where all the action is. There are plenty of bars right near the town square, along with places to eat, so as a tourist you don't really need to venture too far from there for fun. Krakow is a city of students, with some 120,000 students of a population of 780,000. In the summer a lot of this population is gone but I'm told during the school year, the party rages on at all times of the day or night.
There are plenty of cool places to go in the daytime in Krakow. They have a castle that is right on the river with some lovely views, along with one of the oldest Jewish quarters in Poland. Daytrips to Auschwitz concentration camps are a popular thing people do. I didn't go as I am sure I didn't have the emotional strength to deal with such a place that just feels of death. The other popular thing to do are goto the Wieliczka Salt mines, this was more up my alley, but my time in Krakow was limited. I wanted to stay longer as the city was great, but the bus to Budapest only runs on Wednesday and Saturday and I had to get there by Thursday as my friend from NYC, Kissy was traveling europe and I wanted to hang out with her there. I'll have to get back to Krakow to see all the things I missed.
This has to be one of the nicest old town squares in all of eastern europe, both in the scope of the size of it, being very large, and the fact that while there are tourist destinations right near the town square, a few blocks off it, the prices drop a bunch, and tourists seem to disappear. Plus you see crazy things like these guys on a moving "boat" playing jazz music in the middle of the day.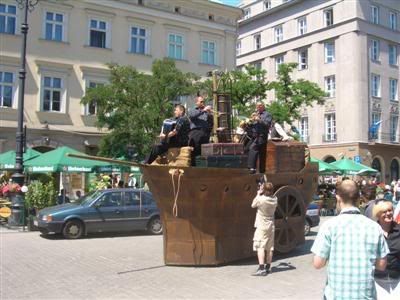 Also the main museums of the city are right near or in the old town square. One to visit is Czartoryskich Museum which features Leonardo Da Vinci's Lady with an Ermine painting. Another must visit is a short walk from the old town to the Royal Castle. This is located right on the river, with lovely views of all sides of Krakow along with a museums that houses various paintings, jewels and all those things you normally find in museums! The view is quite lovely and the day I was exploring was a just picture perfect day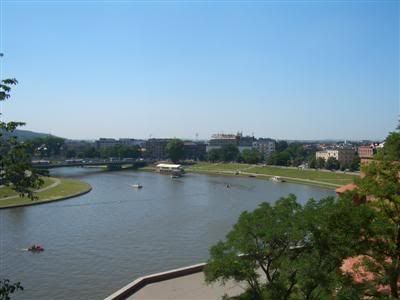 Right on the river on a good day, people spread out on the grass and work on their tans, with Krakow not being located close to an ocean, all these students with nothing to do in the summer daytimes get some sun, a few were swimming in the river, but I opted to sit on a boat/restaurant and just enjoy my Beer.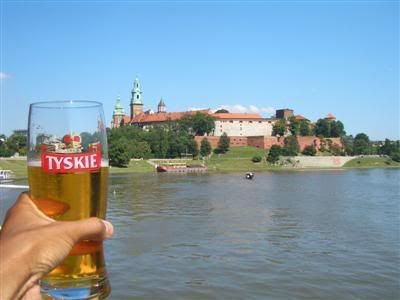 Ahh the nightlife, while I was there in the summer, probably the worst time as most of the hard partying students were back at their family houses, There was a cool group of Irish girls at the hostel, throw in a canadian guy, canadian girl, danish dudes, and me, and you have the makings of a good night out. As the case in most cities with an old town, all the action is right around it, so staying at a hostel close by makes for easy stumbling home. You just kinda walk where the crowds are headed, we tried a few places, but found the most fun at Prozak located on Dominikanski 6, initially a bit of a challenge to find as its located downstairs. In fact most clubs/bars in the old town are located in basements/downstairs, while this makes for cool interiors blending into the 13th century architecture, due to the fact everyone in Europe seems to chain smoke, these places can fill up with cig smoke really easily, and for a soft New Yorker like myself who hates cig smoke it can be tough.. Still the beer was only 8 Zlot (less than $3), and oh so tasty. At the end, the girls naturally gravitated to the local polish guys, but I must say they have a tough, no nonsense look. There were a few cute polish girls, but I've heard Krakow boasts some of the best looking women in Poland, but that must be during the school year as not many sights were on display. These are crazy irish girls here.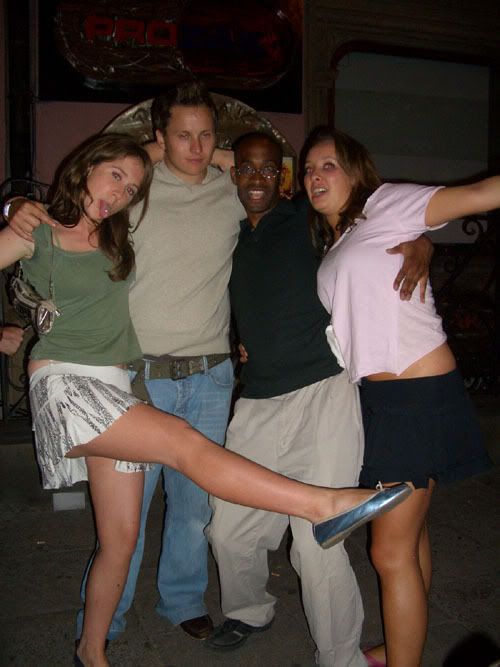 The next day after washing some clothes and nursing off a slight hangover, it was time to move on to Budapest, I wanted to stay longer, but the schedules weren't in my favor, so I'll just have to get back to Krakow some other time, preferably during the university year but not in the dead of winter when its COOOOLD!! Its definitely more backpacker friendly than Warsaw.