After the recent events in Hungary over the last few days I decided to write my country review of Hungary now, instead of going in chronological order. I took a bus from Krakow, Poland to Budapest, Hungary. It was an easy 6hr bus ride, straight through the heart of Slovakia and the low tatras mountains. The bus was the only direct way from Poland to Hungary, as the rail network in Slovakia is not quite yet up to standards of Eurail. Bus are for sure the better way to get around Slovakia, but more on that country during a later post.
I have really wanted to visit Budapest over the past few years. I had heard only good things about the city and country from 2 bartenders who worked in the NYC area over the past years. That combined with the fact the city was located on the famous Danube river drew me to it. I was not disappointed by any means, and my 3 days there hopefully will not be the only time I ever spend in the country. I must say although there has been little coverage of the riots that have taken place over the last month in Budapest, its safe to going in the summertime was the right time to go, as things look a bit dicey right now, with mistrust of the government by the people. I did not see or feel any sort of despair/anger/frustration when I was there, but obviously it has been building for a while and the notion of a corrupt govt doesn't help by any means.
For those who haven't heard about just what has gone down in the last few days, I'll do my best to give a quick recap of events. Monday October 23rd, 2006 marked the 50th anniversary of the anti-Soviet uprising. People were either celebrating in the streets, or protesting the recent leak of a tape of the recently elected Prime Minister Ferenc Gyurcsany. In his campaign the PM basically lied about the state of the economy, said he would cut taxes where after he was elected he raised them and announced spending cuts. Gosh looks like he learned his political education from some of our US leaders.. Hey Poppa Bush remember that "No New Taxes" Pledge???? Well the government choose this event to squash the protestors outside the Parliament building, by bringing out the rubber bullets, water cannon and tear gas to send the rioters home. Naturally there was some resistance and mini riots in the street. The govt would then claim "Everything is Under control, nothing to see, move along.. keep it moving.." Anyway that is the current situation in Budapest, when I was there in July 2006 it was lovely and while I was mostly sightseeing by day, and drinking by night, I didn't see any signs of the impending trouble.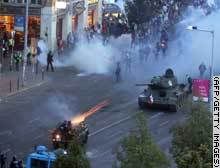 Budapest is actually 2 cities that are united by bridges across the Danube. There is the flat Pest side, which is larger and has most of the important Parliament buildings, church's, and museums. Then there is the hilly Buda side that is less populated, has a few clubs, the Citadel Castle and a few museums. Its a city of 1.7 million people, by far the largest in Hungary and one of the top 10 in all of the European Union. The currency is the Forint, with a rate of about 200 Ft for each US Dollar. The city is easy to navigate by tram/bus/subway and even walking. In fact my first day sightseeing there I walked all around for about 7hrs, only to get back to the hostel and be topped by an Aussie staying there who walked for 11hrs. He woke up earlier than me I guess. Here is one of the better church's that I managed to find.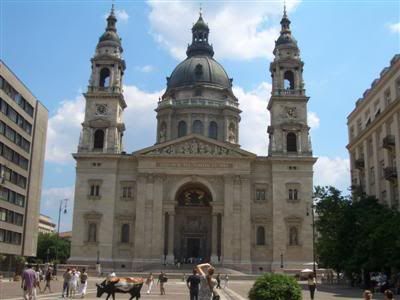 I totally enjoyed the sights of Budapest, more so than Prague. It was surely less crowded than Prague, and I was able to just walk without a map or purpose and run into some great sights. I climbed up in the Buda Hills to the top of the Citadel, and the view was simply amazing. Each level you reach and stop for a breather you look and say wow what a great view, it only gets better the higher and higher up you go until you reach the top and the whole city is in view. There is a nightclub up at the Citadel and I was thinking of going, but after walking/hiking/climbing up during the daytime there was no way I was going to do so at nighttime a second time. Yet there is plenty of other nightlife to find in Budapest.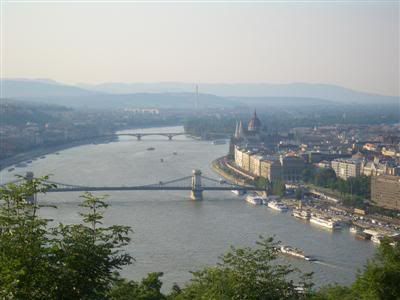 I stayed at a decent Hostel The Aborignal that was located well right off Jozsef Korut avenue which is a main drag that you can catch the 4 or 6 tram. The hostel was average with only 1 bathroom with a shower, but had 2 computers with free internet. The people staying there were not really party people, and no one seemed to stay for more than 1 night, so I mostly hung out at night alone. Budapest has a great transportation system with both underground subways, and above ground trams. The fares are about 185 Ft per ride and I was warned to always pay as they seem to like to pick out black foreigners to check tickets and potentially fine... luckily I bought all my tickets and didn't have any problems. The trams don't run all night, but I got around that by partying till 4am and caught the first tram back home! After being in Krakow and their cool underground smoke filled bars, going to outdoor spots on the Danube was a total blessing in Budapest. On the Buda side of the river, there are 2 cool spots, Zold Pardon and Club Rio right across the street from each other. Zold Pardon is open in the daytime and has a great 2 for 1 happy hour beers for 400 Ft total($2 USD), at night they have 2-3 different music styles playing and its all outdoors. Club Rio is a bit more of a swanky place, and while the beers were more expensive about 750Ft each, and they didn't have any local Hungarian beer on tap, the crowd was better dressed, younger and seemed to be on the prowl for good nightlife.
I must say if any country in Eastern Europe where English was a problem it would be Hungary. While I was told that all the younger people speak english, I ran into a few that didn't speak it too well.
The worst experience regarding language was when I went to the Thermal Baths in the City Park. I bought my admission ticket for I think 2000 Ft($10) and literally walked around the building twice trying to find where to enter. It turned out I should have entered where I bought the ticket, but I only saw a line of women, and thought the baths were separated men on one side, women on the other.. After a 1hr long wild goose chase of running around trying to find where to enter I was ready to give up and totally frustrated but eventually found the way in. The Thermal baths are amazing, inside you have sauna rooms, hot hot hot pools, and then you get outside and they have 2 pool, one COLD, and one Medium to Warm. Even in the dead of winter the natural thermal springs heat the hot pool to over 100 Degrees. A very cool place and better yet they served beer!!!
The city has over 10 thermal/hot baths, and one could basically relax at them all day long and then party all night long, Budapest is a great city.. Plus if you like the cultural side of things, ya know churches, museums, architecture and shit like that, plenty to be seen.. Most importantly LESS PEOPLE THAN PRAGUE. I would highly recommend a trip to Budapest, and if you have extra time try to explore some of the smaller cities in the rest of Hungary, I didn't make it to any, but in my future travel plans I hope to. Towns like Eger, the Lake Balaton area, and Pecs all sounded like cool places from people I talked to during my travels, hopefully i'll make it there eventually.
A picture of the Parliament building, before the protests/riots.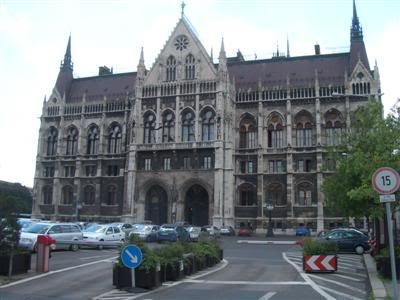 Another view from my walk up to the Citadel