Life in NYC is always crazy, but today things seemed to get a bit crazier. First the reports come in about a small plane hitting a building on Manhattan's upper east side. 524 East 72nd is a 50 story building.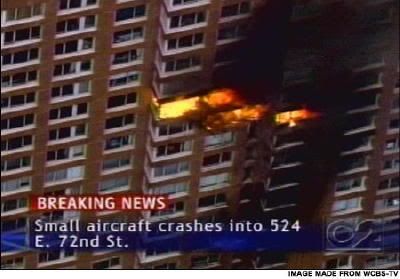 Today is a grey and rainy day in the city, not the best day to be flying a small plane. First the fears were of terrorism, but eyewitness reports on the ground confirmed it as a small, single engine plane. Ok so now the fears of another Terrorist attack were eased, then word leaked out that owner and pilot of the plane was pitcher Cory Lidle. Whoa.. Right now word is 2 people are dead, Lidle, and his flight instructor. This toll sadly might rise, as after the plane hit a building it started a fire and fire in any high-rise building in the city is a worry. Stories are coming out that Lidle loved to fly, and wanted to fly as much as possible. Sadly Lidle had to leave the Yanks in middle August and put on the Bereavement list as he attended the funeral of his grandmother. From the preliminary reports, the plane was headed up the east river, strange for someone who lives in California, could he have wanted to circle Yankee Stadium one last time before heading home???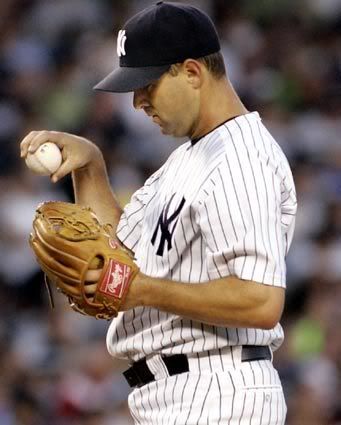 What to say at this point. First off Lidle was an average ML League pitcher, but heck the Yankees pitched BELOW average in their recent playoff loss. At 34 years old, he had been in the league for 9 Years playing for 7 Different teams(NY Mets, Tampa Bay Devil Rays, Oakland A's, Toronto BlueJays, Cincinnati Reds, Philadephia Phillies, and last stop NY Yankees). To say he was a journeyman was fair, but he had a career record of 82-72, and ERA of 4.57. Not great stats, but in these days of pitching starved teams, enough to earn 3.3million this past season, and a career total of around 17million bucks. Not bad for being "average".
Lidle came to the Yanks as a salary dump/throw-in during the Bobby Abreu trade this past summer. He did manage to pitch a clutch game August 21st for the Yanks during the "Boston Massacre" going 6 innings and not giving up any runs, surrendering 3 hits and striking out 5. Another good performance was his September 1st outing against the Twins again going 6 innings and not giving up any runs.. Was he in the Yanks future plans for 2007, highly doubtful, but he was good insurance to have as a backup starter and his price would have probably been below 5 million bucks.
The ebay effect on Death is a strange one, as someone had listed signed Cory Lidle baseballs a week ago and were set to end in 6hrs before the news broke. There had been no bids on the items. As it write this in the last hour the items have gone from $10 to over $200. Now with someone as marginal of a star like Lidle, I'm sure this affect will be limited to Autographed Items, or game-used equipment. This frenzy seems to happen anytime a person dies, remember the Kirby Puckett effect on both autographed and non-signed items. I have no idea what the final price of the Item will be, but check out one of the balls for yourself
Cory Lidle Ebay Autographed Baseball
. Also in a sick ebay note, people have now recently listed 4 signed baseballs that will end in a 1 week. If people knew the way to make money on ebay, they would know to list as a 1 day auction, and let the frenzy take over. Even right now a simple Phillies Postcard with Lidle, not even signed is selling for over 50 bucks.. Amazing what death can do to a person's "worth". Yet right now there are 32 items for sale of Cory Lidle, expect this number to double or triple in the next few HOURS. Its a frenzy out there once someone dies..
Athletes die in plane crashes all the time, probably less than the statistical probability considering how much they fly. From golfer Payne Stewart in 1999, NASCAR's Davey Alison in 1993, to entire teams like the US boxing team in 1980. The Yankees have a strange history of players dying in plane crashes, the last active roster baseball player to die in a crash was Thurmon Munson in 1979. Well lets just prey for his family and those of people in the building or the ground who might have been injured or killed. Here are a few images of Lidle.. Rest in Peace...