Still recovering from the Superbowl hangover but going to try to sum up an amazing game, amazing night and good time for NY all around. The classic NYC ticker-tape Parade is Tuesday and its something that no other city can pull off, sorry Boston but those stupid Duck Boats are just that, STUPID.
Full disclosure I am a NY Jets fan. I love Gang Green, but for this one day I was a Big Blue supporter. I can easily justify this without being called a fair weather fan for the simple reason of there is not rivalry between the NY Teams. They play each other in the regular season once every 4-5 years. The fans simply don't have ill will for each other. Yet Boston, that city and everything about it folks in NYC hate. The only true rivalry between NYC teams is in hockey, as the Rangers and Islanders really really dont like each other and the Rangers and Devils while not as storied have played some amazing tight games.
I went to a bar with about 7-8 friends, many of whom are die-hard Giants fans, season ticket holders and overall fanatics. The hardest sporting event I ever witnessed on TV that almost gave me a massive heart attack was Game 7 of the 1994 NHL Eastern Conference Finals Rangers vs Devils. To sum up that game Brian Leetch scored an amazing spin-o-rama goal to give the Rangers a 1-0 lead. Mike Richter stopped everything in sight until with 7.7 seconds left Valeri Zelepukin scored to take it to overtime. Overtime in the NHL is sudden death, so any goal and the series was over, for 2 full 15 minute overtimes my heart rate would race whenever the Devils had the puck. Thankfully Stephane Matteau scored that fluke goal in the 2nd overtime and the Rangers were going to the Stanley Cup.
For this Superbowl game I was worried some of my friends would have the same heart atack. On onto my analysis of what happened in the game.
First off, dont discount the Injury to Tom Brady's foot/ankle/whatever. It was obvious that his mobility was limited, this guy never gets sacked, even when his offensive line breaks down(which doesnt happen often) during the regular season he would have the mobility to evade the pass rushers. Not this time.. For a man used to having a 120lb supermodel on top of him, instead numerous times he had 600lbs of black men on top of him. The same injury issue with Plaxico Burress was true, for a guy who caught everything thrown to him in the Green Bay game in stupid cold weather, he was a non-issue for most of the game, but came up big with 35 seconds left in the game.
Eli Manning while not having a great game, he basically did what he needed when it was needed which is in the 4th quarter. The first TD gave the giants a much needed and deserved lead, the 2nd TD gave them the much deserved win. The fact the Giants had no running game at all, meant it was really all on Eli's shoulders, while I'm not ready to send him to the hall of fame just yet.
Ok enough analysis of the game, as you will read better account from professionals, lets talk about the drinking that I did.. My plan was for 1 pint (Blue Moon) a quarter, so a total of 4 beers, I felt that amount would allow me to think clearly, remember the highlights of the game and not be hung over on Monday. Well I think I had 5 beers instead of 4. After the game the posse traveled uptown to a bar called Scruffy Duffy's that is closing in a few days. It had the feeling of a bar that was closing as the beer selection was limited but they still charged $5 for a freaking Bud Bottle, screw that. Next stop the legendary Yogi's...
Yogi's on 76th and broadway in NYC is one of the best Dive bars in the city. Cheap prices, friendly and beautiful bartenders and country music on the jukebox.. Bad things are smelly bathrooms, but those are tolerable if you are drunk enough. I also liked the $3.25 bottles of Bud, vs the $5 at Scruffys.
Here are the celebratory blue shots for the Giants fans, not sure what was in them, but at this point the night was so good it did not really matter.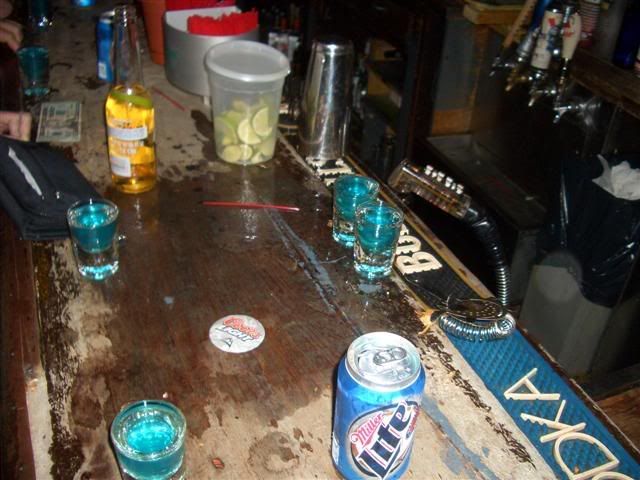 Next stop on the celebration tour on the UWS was Bourbon Street, we were shocked that many of the bars on the Upper West Side closed or were empty, thankfully some folks with spirit were at Bourbon Street. The Bartenders were in Giants mood, and dressed perfectly in their Eli Manning and Plexico Burress jerseys. Not sure of their names, it was 3am at this point and not all my functions were functioning properly.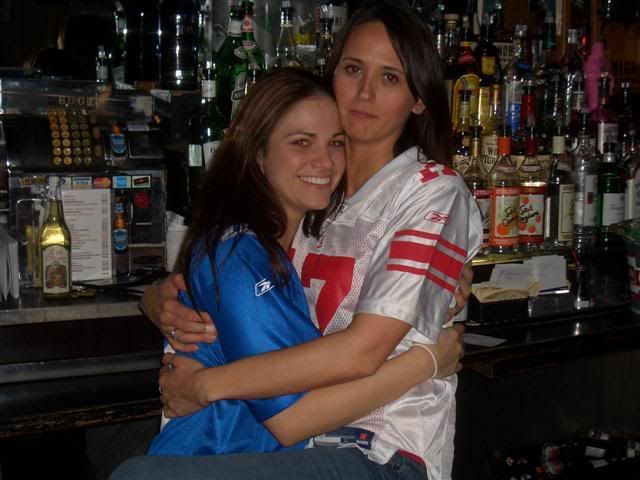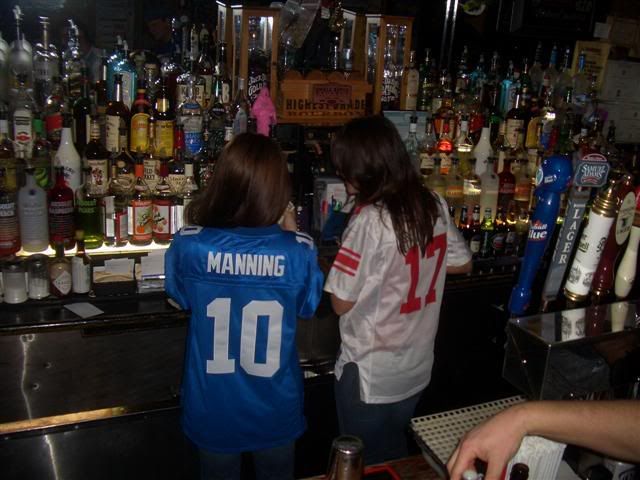 The tickertape parade is tommorrow. hopefully I will have some good stories or pictures to share.