Ok so i'm not Nostradamus with predictions of sports events, not even close. I have quit gambling on sports for this reason and this reason alone, you might think you know it all, but as it said "this is why they play the games" Anyway I'm a NASCAR fan, despite only have followed it for gosh the 7 years since Dale Earnhardt Sr, died at the 2001 Daytona 500 on the last lap, last turn. What a tragedy in terms of sports events, but thankfully in 1998, he won the race after his 19th try. Before that 2001 race my only thoughts of car racing were the Indy 500. This past year while up in Montreal during the Grand Prix, i learned about Formula 1 racing and followed the sport picking up what I could while following Lewis Hamilton and is quest to be the only rookie, only black dude to ever win the Championship in his first year.

Well this year Its all about Dale Jr, he has already won the Daytona 500 back in 2004, but since then has been mired in what one could call a slump. Last year after running a crappy season with the team that his evil step-mother Teresa owns after it was inherited from Dale Sr, they could not reach a new contract so he left the team. He went over to Hendricks motorsports, the team with the 2-time reigning champion Jimmy Johnson, and the most decorated current driver Jeff Gordon (who along with driving fast cars has a taste for fast hot women!). The team is stacked, and while the concept of a team is over-rated in NASCAR, they have the best staff, best facilities, best engineers etc. Basically they are the Yankees of car racing, and while the Yankees have not had the best success in the past 7 years throwing out the highest payroll team i think for the race tomorrow it will work out.


So far this week, Dale Jr has won his qualifying race, and the Budweiser shoot-out, and today running in a car that he owns, finished a close 3rd place in the 300 mile race at Daytona. I think it all sets up for him to win the big Daytona 500 on Sunday. I'll be watching at 3:30pm EST on FOX, i hope you do also. As someone who used to drive a car on a daily basis, but now currently hates the concept of driving (just move to NYC and deal with parking, buses, potholes, car insurance, traffic, etc and you might feel the same).. so yeah I dont like driving, but the thought of bump drafting at 195MPH on the back straightaway of Daytona is like a rush of blood to the head. So i'll be watching, drinking my Bud 40oz in honor of Dale Jr's last sponsor team and hoping no one gets hurt but in the end we have a finish like 2007. Where Kevin Harvick beat Mark Martin by the length of a hood (.02 seconds or 8 feet at the speed they were moving) to win the race, while Clint Boyer finished literally on his head, upside down at 150mph.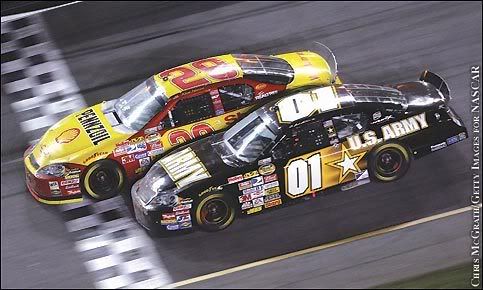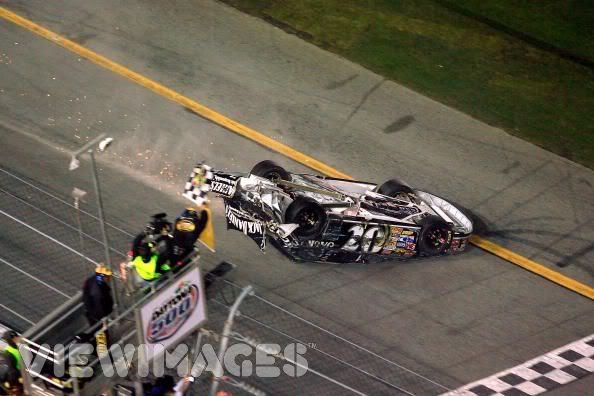 Or better yet the 1979 race. This was the first 500 mile race to be broadcast on US TV from start to finish LIVE, and it was worth it. If you don't know the history of NASCAR the 1979 race was won by Richard Petty after the 2 leaders Cale Yarborough and Donnie Allison crashed into each other 3 times on the final turn and spun out, letting "The King" Richard Petty come back from over a half lap down to win the race. Oh it was not even over, a donnybrook insued on the infield grass between Yarbourough and the whole Allison family (ok well only really brothers Donnie and Bobby vs Yarbourough).. anyway a great finish spend the 2 minutes of your life below watching the video. Enjoy