Today was an all-soccer day for myself. Around the world everyone tuned in to see if the cardiac kids Turkey could keep their improbable run at the Euros alive. Well despite Television problems all around the world, the game went on and Turkey was about 1 minute away from sending it to extra time. Future goat Philip Lamb scored with only 30 seconds left to put Germany up 3-2. He would have been a goat if the game went to extra time and Turkey had won, as he was SMOKED one on one for the 2nd goal that Turkey scored in the 86th minute. I am actually glad the game ended on time, as I would not have been able to hang around the bar for extra time as I had to run over to watch my man crush Thierry Henry in a charity game.
Steve Nash the 2-time NBA all star is a big soccer fan, in fact I heard he supports Tottenham Spurs, which considering he is good friend of Theirry Henry he can't be that much of a Hot Spurs fan. Anyway due to France basically totally sucking at the Euros, Thierry's summer vacation began a bit early and he was able to come to NYC to play in Nash's charity game. The game took place at the soccer field at Sara Roosevelt Park on the edge of Chinatown. Its located between Houston St and Delancy St, and ELdridge and something else. I guess its a spot where folks come to play pickup games all day long. The game was schedule to start at 5:30pm, and I booked it over from the bar One & One right at the end of the Turkey vs Germany game, so I was inside the gates at about 4:50pm, and they probably closed the gates to the crowd at 5:15pm so extra time would have been no good for me.

There were 2 teams, the blue team and yellow team, naturally since Nash was the organizer he put Thierry on his team, but the blue team had the equally talented and trying to show off his stuff Salomon Kalou of Chelsea fame. Too bad John Arne Riise was not there as they could have showed off how to score an own goal in the dying seconds of a big champions league match. Some other players on the blue team were $10 million american teenager Jozy Altidore, Claudio "Capt America" Reyna, Juan Pablo Angel(he must have been hurt as he did not play), Baron Davis the point guard from the Golden State Warrior who must have never kicked a soccer ball before cause his touch was SHOCKING, and a few other guys. The yellow team had Nash's Phoenix Sun teammates Raja Bell, Leandro Barbosa, the aforementioned Thierry Henry, Robbie Fowler(former Liverpool player), Jason Kidd, Steve McManaman(Liverpooler before my time).

The game started at 6pm, and it was 8 vs 8, so there were a few subs on the sidelines. The place was PACKED.. inside they stopped letting people in and it was 3-4 people deep. Outside the black fence it was at least 8 deep on the street, and as you can see in one of my pictures, the people were literally climbing up and hanging on like 8 feet off the ground just to see the game. The police only numbered about 5 people, so they tried to get people down, but in the end it was fruitless, the NYPD should know if Thierry Henry is in town, you need more force!! The game was very cool, it was played at a high skill level for sure, and FAST.. when you are literally 3 feet from the players its only then that you realize just how much speed the game is played at on the highest level. Everyone was good natured about fouls as they were none, no contested tackles or headers, only 1 50-50 ball i think when Baron Davis playfully bear hugged one of his fellow basketball players. Thierry showed some really cool skills to impress the crowd, including a seal dribble almost to the net, and plenty of step-overs. There was a playful penalty shot that he took that was like a LASERBEAM. The goal might have been 8 feet high but it was very very narrow, the type you would get with a 5 on 5 game of pickup soccer, well he buried it high and tight, it was good he did not miss cause anyone near the net or behind the net would have been CREAMED by the laserbeam of a shot he unleashed. I have a video of it and will be getting it on youtube in the next few days.

The game was free for all i believe, they did have some orange seats, like the ones you take to the beach with the built in beer holder on one sideline for either guests of the players or folks who donated to the Nash Foundation. I've read they do good work and have built a hospital in Paraguay. The website is Steve Nash ORG check it out and if you can on there donate a few bucks if you can afford it.

Ok Pictures now.
Thierry Henry doing some tricks after a dead-ball. Look at the fans literally hanging onto the Fence all around to see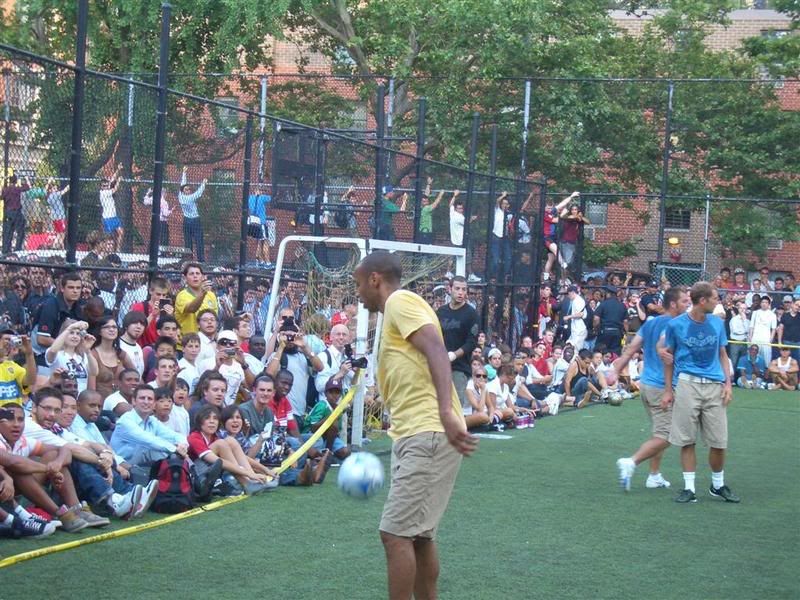 Salomon Kalou was impressive, i guess he wants the whole blog world to say how good it was so he can get a starting spot on Chelsea this year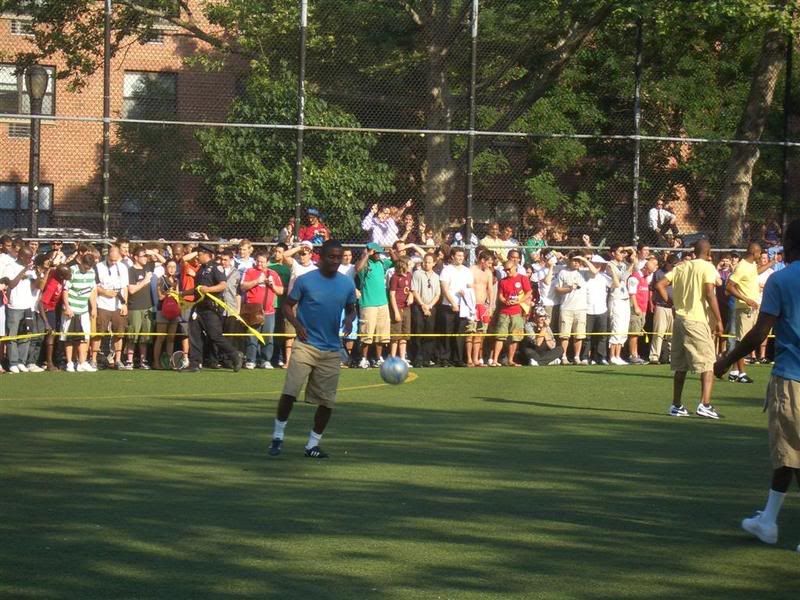 Thierry and his skinny calfs. I was shocked to realize up close just how small/tiny most of these professional footballers are, yet TH has some muscles on those skinny legs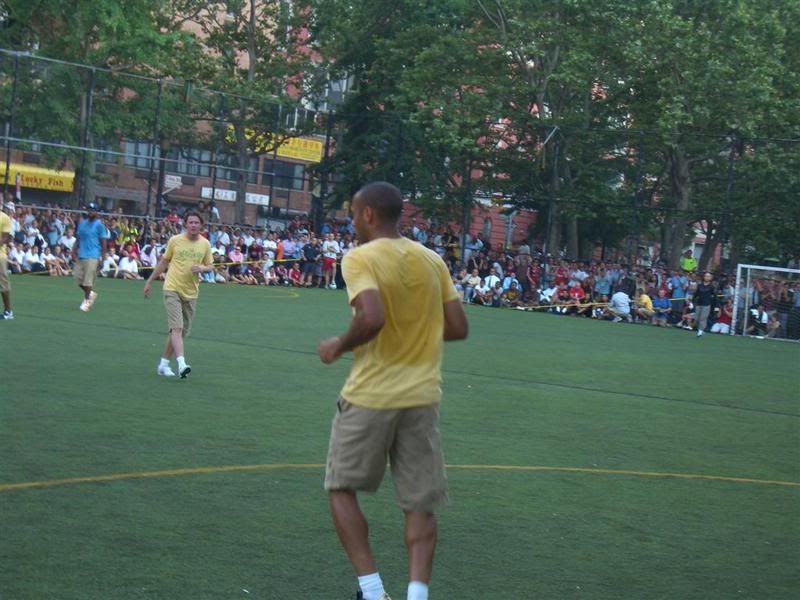 Leandro Barbosa playing some D, one of my few decent action shots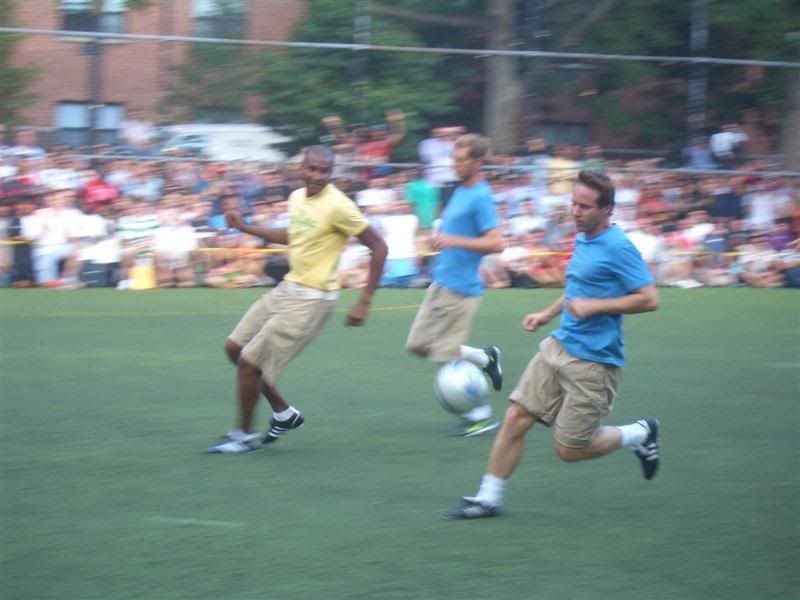 After the game all the fans basically stormed the field as the NYPD was not in force and there were only about 2-3 organizers, all the players were REALLY NICE and signed tons of autographs and took pictures. Thierry did a little bit of media/interview and then tried to run for the exits but was stopped and i heard signed a decent amount of autographs. Here are some pics from after the game

Claudio "Captain America" Reyna signing for the only 2 Beckham shirts I saw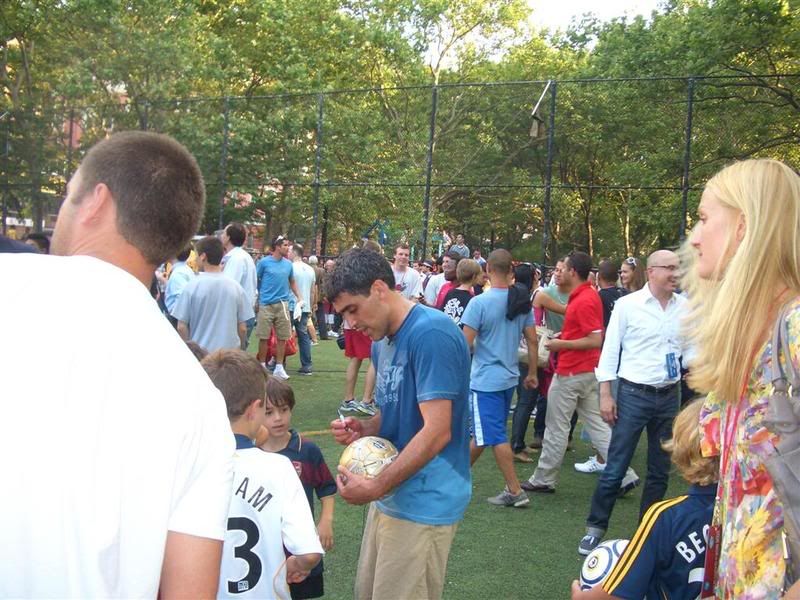 Leandro Barbosa, who is from Brazil and showed he has a few skills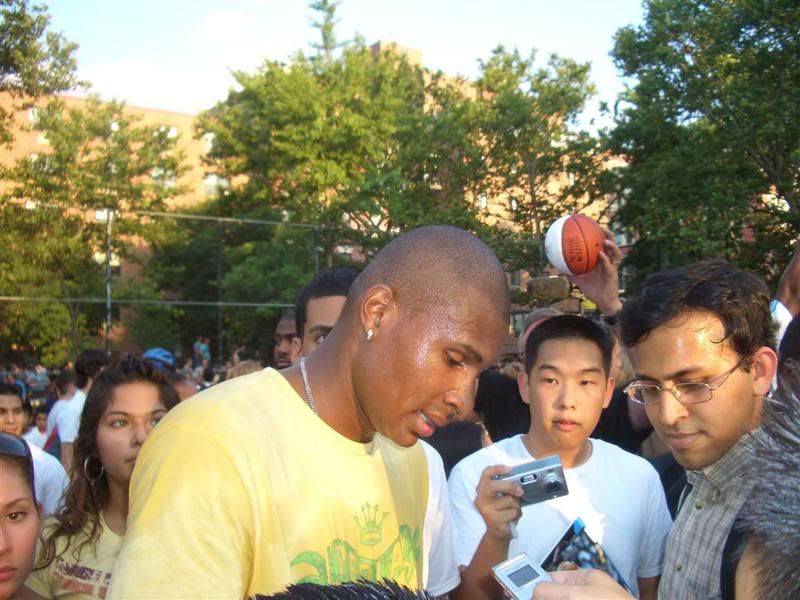 Salomon Kalou very sweaty and a cute fan. If my folks up in Harlem knew their boy from Ivory Coast was going to be there(he was not mentioned in the NY Times article) I'm sure it would have been more of a mob scene.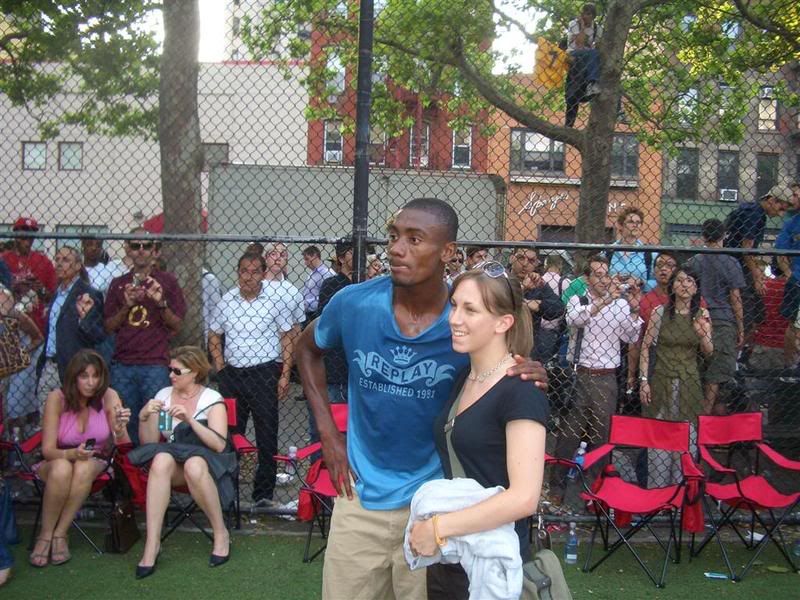 Jozy Altidore with 2 girls hanging on to him. He was INCREDIBLY nice, signing for a while, taking pictures, talking on people's cell phone, everything.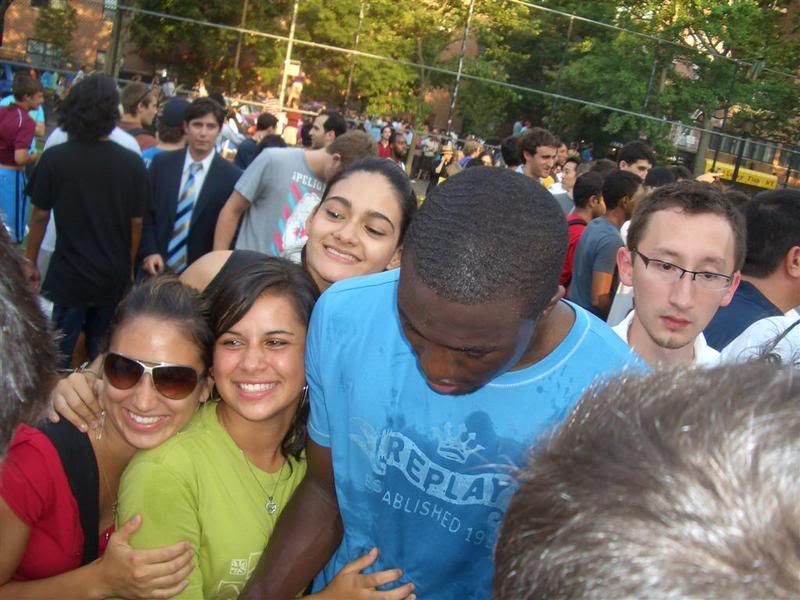 Baron Davis, who was a fun guy, but obviously had not kicked a ball in a while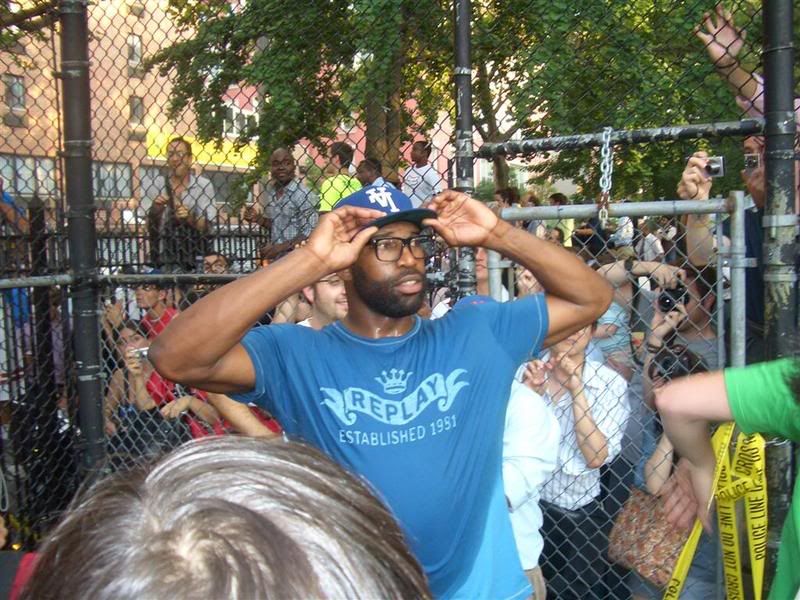 Water break with one of like 3 really cute girls dressed up like soccer players who were handing out vitamin water.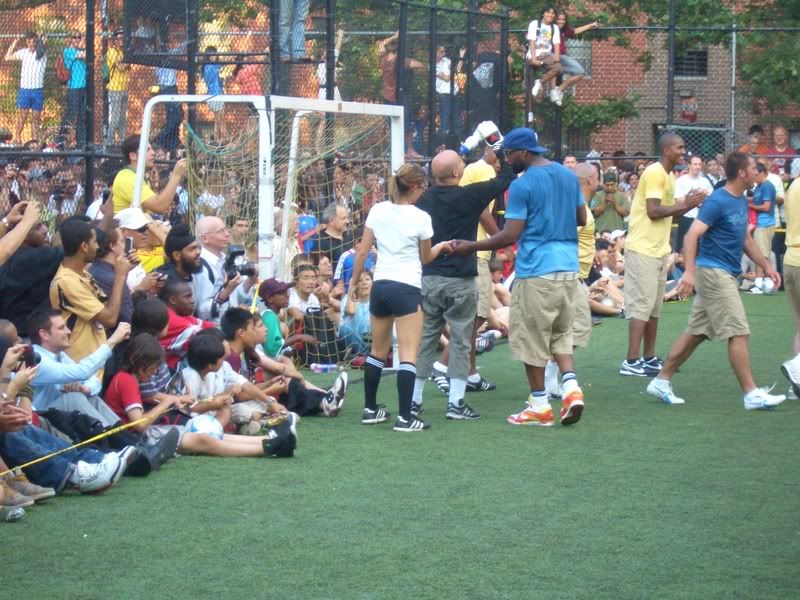 myself and Jozy Altidore. Best of luck with your move to Villareal, the team just gained one new fan, go Yellow Submarines!!