Last week the USA finished in 2nd place in the CONCACAF qualifying tournament. It was enough to have them be one of the 16 teams to make it to the Beijing Summer Olympics later in 2008. While in the sense of the world the Olympics are not a big deal for soccer, here in the USA we get so hyped up over the Olympics in all aspects a good showing here for the US Men and it would do alot for the game overall. The tournament is scheduled to run August 6th to August 23rd, so they are actually going to be games before the official opening of the games on August 8th. If all goes well with me I hope to be making my first visit to China to goto the games. Since a little kid I've watched the Olympics and loved it and going to a games in progress would be awesome, we'll see how those plans progress as right now airfare is freaking CRAZY to china.
The Qualifying tournament was a total bore, which shocked me. With so many of the USA players being young I thought it was a good look at the future, but in reality the most exciting moment of the whole 5 games was the semi-clothed Streaker who ran out on the field during the USA vs Honduras games, bless you Tiffany Nicole May as you allowed the major media to pick up that the USA was even playing a game, cause looking at the attendance at the games in Tampa you would think no one cared.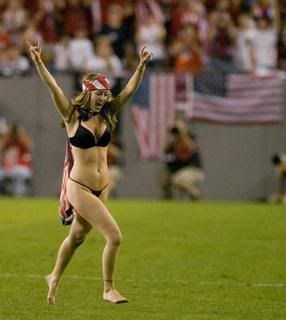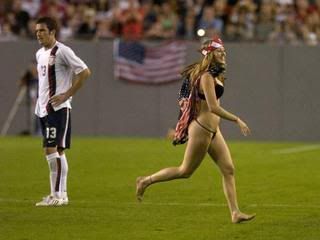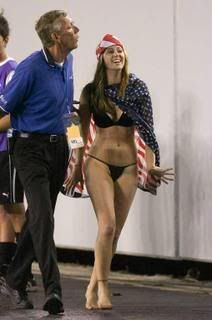 The other teams joining the USA at the games will be China, Japan, Australia, South Korea, Cameroon, Ivory Coast, Nigeria, Honduras, Brazil, Argentina, New Zealand, Netherlands, Serbia, Belgium, Italy. The teams will be made up of Under 23 players, with 3 any age players allowed. Brazil is taking this tournament seriously as for their over 23 players folks like Kaka are talked about going to it. The USA has some great under 23 players in Freddy Adu, Jozy Altidore, Michael Bradley, Eddie Johnson. These games are actually not going to be played just in Beijing but over China in Shanghai and other cities, so scheduling will be tough having to move around.

The one thing I do hope that happens to the USA is that they get their shit together, no need going over there and playing like 11 guys who just met each other in the parking lot.