Ok I know I haven't really written much of anything over the last few months. No reason, other than one of the main reasons before this year i've never considered being a blogger. Overall my life is boring, I'm not a good writer, and who would care about the boring mundane details of my life. While I was on my whirlwind trip Blogging was the best way to stay in touch with folks, let people back home know the trip was going well, or in some cases not so well.. Anyway as 2007 approaches I plan on finishing up the country by country reviews of still at least 15 countries that I have not written about. Also hopefully I'll be able to take another trip in '07 that will provide more material for a blog if anyone is interested in reading..
Yet as 2006 comes to a close as with most people its a time to reflect on things of this past year. For sure 2006 was a great year for me, as I was able to take an amazing trip that left my passport with very few empty pages for future stamps, and it doesn't even expire until December 2008, so if I am able to travel as much as I want to over the next 2 years, extension pages will be in order. I am grateful for alot of things things this year, most my all my family and myself in relatively good health.. I saw relatively cause I think my Liver is still wishing it was in Europe where the beer was very pure and the liver was able to process the toxins very well and left my head clear most morning afters. Yet back in the old USA it seems like any beer, even Imported beer is hitting me HARDER than ever.. Yeah it could be cause I'm a year old, a year wiser, whatever you want to call it.
Yet as with all years there are some things to look back on as not so great and want to change for 2007. While Death is not something you can control, the world lost alot of great people this year and I myself was touched by the death of someone who was too young to have made her transition to the other side. So for all the good times, memories, pictures, stories.. For all the great people I met around the world on my European trip who I hope I am able to stay in touch with there are still all those people who have passed us on.. So below I will try my best with the help of Wikipedia to list those who have left us this year.
January 19 - Wilson Pickett, American Soul Singer. While not as well known as many of the other greats, Wilson could sing. Probably best known for his song "In The Midnight Hour", he was one of the great soul voices of the 1960s. Also a great songwriter in his own regard, tunes of were recorded by everyone from Led Zeppelin, The Grateful Dead, The Rolling Stones, Creedence Clearwater Revival, Bruce Springsteeen. Practically a who's who of world music. 1991 Inductee in the Rock n Roll Hall of Fame. If you want a lesson, check out his 2CD Greatest hits from Amazon for only $19.99.
Wilson Pickett 2CD Greatest Hits
January 30th - Coretta Scott King. Wife of the legendary Dr. Martin Luther King Jr, Ms. King had the duty to be a strong woman and stand by Dr. King's side during the tumultuous 1960's civil rights movement. Also raising their 4 young children after Dr. King was assassinated in 1968. The Civil Rights movement could go down as the most important movement of the last 100 years, and its surely not over yet. Great woman for sure.
March 6th - Kirby Puckett. Minnesota Twins great Outfielder, and MLB Hall of Famer. While never a twins fans growing up, there is something to be loved about Puckett. Standing probably 5"8 inches tall, as almost as wide in girth as he was in height, he was the ultimate competitor. Be it climbing a wall in CF to make a catch, hitting a clutch HR when his team needed it. Elected into the HOF in his first year on the ballot which was a shock to many. When you look at his numbers vs Don Mattingly they are incredibly close, yet Puck won those 2 World Series with the Twins. Youngest ever HOF death at age 45(except for Roberto Clemente who died before being elected but had his 5 year waiting period waved)
May 3rd - Earl Woods. Sure he was only Tiger's father, but he was a US Marine and war hero in his own right. But what should be looked at, is despite the fact his son was a sports prodigy at such a young age, both father and son always kept their diginity. In these days of fathers of 8 year old pee-wee football players being violent against their coaches, ref's, other parents, even other kids its great to see someone raise a child star and both the star and father being well adjusted.
June 6th - Billy Preston. The 5th Beetle, or sometimes known as the Black Beetle. The only person other than the Fab 4 to receive performance credit on a Beetles record. John Lennon wanted to make him a group member, while he never got that in the end, he performed with him during their last ever performance in 1970. Also a FONKY man on his own in the 70s, he played with probably the other most famous group from the UK, that being The Rolling Stones. For some true 70s funk check out his tune from 1972, Outa-Space. Definately check out for only $7.49 at Amazon his Millennium Collection with Outa-Space and You Are So Beautiful on it.
Billy Preston Greatest Hits
June 7th - Maria Puppin-Boyd. This was was hard, my good dear friend Maria passing at only 31 years old from Cancer. I've said about as much about Maria as I already can, but lets just let it be known, she was by far one of the strongest people i've ever met. To fight cancer the way she did, always have a positive attitute and never question "Why Me?" well not many of us would ever be able to live with that dignity that she shows. You will be missed always Maria.
Below from (L to R), Patti, Myself, Daniel Boyd, Maria Puppin Boyd, Ingrid. During a dinner for her birthday in 1998.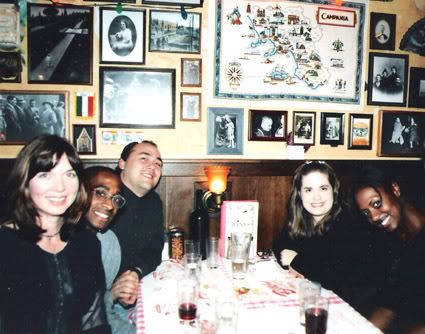 September 4th - Steve Irwin. Always entertaining, always fun to watch on TV. The Croc-Hunter died young, and considering his line of work, it was a shocking death. While I've been told from friends in Australia this was on the level of a national tragedy, here in the USA while Irwin was on TV, he never fully reach Rock-star status. Yet we all will learn a lesson about swimming above sting-rays from his death.
October 6th - Buck O'neil. One of the great ambassadors for the game of baseball. A great player during the Negro Leagues. The first ever African-American coach in the major leagues, Buck become enormously popular during his latter years. Always in demand for an opinion, as a speaker, or just as a great guy. Sadly he wasn't elected into the baseball Hall of Fame when they elected 18 other Negro League legends. Hopefully the book hasn't closed on his chance to get into Cooperstown. Even if he never makes it, he was instrumental in establishing the Negro League Hall of Fame Museum in Kansas City. A place one day I will surely visit.
October 11 - Cory Lidle. Well anytime these days you hear of a plane hitting a building in NYC, people will freak out and worry the next attack is coming. Yet in Lidle's case it was probably a combination of bad weather and pilot error and nothing of the terroristic scare. Yet from a journey-man pitcher he will now go down in history for alot of people as a trivia question as to where they were, when they heard a plane crashed into an apartment building on the Upper East Side of Manhattan.
October 28th - Trevor Berbick. The only man to ever fight Muhammad Ali(beat him in 10 round in 1981) and Mike Tyson (got his ass knocked out in 1986). I have only seen highlights of the Tyson knockout, never of the Ali fight.
November 9th - Ed Bradley. News commentator and journalist. Overall a legend in the African-American community being one of the few black faces on Network TV in the early 70s. Blazed a trail for all who followed him. Also a great sports fan and jazz music fan and supporter.
December 13th - Lamar Hunt. By far one of the most influential people in USA sports over the last 40 years. From helping to form the American Football League(AFL) and lead for a merger that created our current NFL. To his role in USA Soccer, being a founder of both the North American Soccer League(NASL) and Major League Soccer(MLS) and owner of 2 teams. While he was lucky to have come from a wealthy family and can't be protrayed as a rags to riches story, his contributions to USA sports are legendary.
December 25th - James Brown. The Godfather of Soul. By far the hardest working man in show business. To hear his music, or see his dancing feet was something we all have to have done. I luckily had the chance to see him perform live at the Taste of Chicago in the late 90s, while not in his pure heyday, he still put on a helluva a show. I even attempted to go pay respects to his body when it laid in repose at the Apollo Theatre in Harlem a few blocks from my house, but the crowds were simply too big. Loved by all, Respected by Many, his music is simply the backbone of almost anything you hear these days that makes you want to move your feet and shake your ass!!
December 26th - Gerald Ford. While in many ways I am always shocked at how they make it out when former presidents die that they were the greatest thing since sliced bread. If Ford was that great, he would have gotten more than 49% of the vote in 1976 and beaten an unknown peanut farmer from Georgia. Yet in death he is greater than his 28 months in office. Will always be a trivia question as the only man to be president of the USA without ever receiving a single vote from the public for office.
December 30th - Saddam Hussein. My feeling for the Iraq war aside, the Devil is finally able to get his way with Saddam as depicted in the South Park Movie. I hope Lucifier and Saddam are having a blast down there.. If you have not seen Bigger Longer Uncut, check it out by far my favorite Musical ever! Only $7.49 new at Amazon.
South Park: Bigger, Longer, Uncut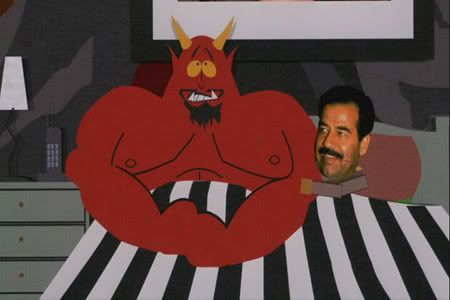 See ya 2006! Hope everyone has a great 2007!!!!!