My initial plan was to spend much time in Lithuania, but I enjoyed Estonia and Latvia so much that my trip was cut down to 2 days as I had prebooked a flight to Warsaw for the 9th of June, which was the first day of the world cup. Back at home while planning my trip I came across a deal on WizzAir where tickets were 1 Euro Cent, and then extra taxes and fees. After fees/fuel surcharges and the like the total price came out to be 23 Euros or about $30 Dollars. While at the time this seemed like a great deal, and flying for only 45 minutes versus an 8hr bus/train ride in the end I probably would have chosen to take the train ride. Why? Well intitally at home when booking the trip I didnt think I wanted any bus/train rides over 5hrs, and while this still is a tough amount of time in Eastern Europe, in Western Europe its a breeze. The bus time from Vilnius to Warsaw is listed as 8hrs, and about $30 US. So about the same price as the flight but a much longer trip. I have since learned if there was a nightbus, that 8hr trip is nothing, as you can sleep and save on a night accomidation, have a couple of beers(remember you can drink just about ANYWHERE in europe), put on your MP3 player and the 8hrs is gone quickly. What I opted to do instead was only spend 1 night in Vilnius, which is a wicked party city.. Then spend a whole day wasted by traveling to Kaunas, a city I didnt enjoy, spending the night in Kaunas in a Hotel that was about $25 US per night, as there are not alot of Hostels in that town, spending some $20 US on a Taxi to the Kaunas airport since my flight was at 6am. overall it was much more expensive and time consuming overall to get the WizzAir flight, but I've learned my lesson. 8hrs is not that bad of a trip, and the nightbus/train is your friend to keep your days available for sightseeing when you have short amounts of time in each country. Only use those discount airlines for flights that are much cheaper than the bus/train option, or long long distances like over 12Hrs, especially if those are times in Eastern Europe, where bus/train might be much cheaper but times can be longer than what is listed.
I arrived in the capital of Lithuania which is Vilnius by bus from Riga. It was an easy 5hr ride, on again a modern full sized bus that only cost $12 one-way. Again in Eastern Europe dont buy rail/bus passes for unlimited travel as point to point tickets are almost always cheaper. In fact forget rail travel totally in the Baltics as is the case of most of the "less developed Europe" bus travel is much more efficient than train travel. Vilnius is a city of some 600,000 people and unlike Riga or Tallinn does not really have the same sort of centralized old town with windy/twisty streets. It does have plenty of nice old architecture, rich cultural centers, a very important old jewish ghetto/quarter and most importantly a rockin nightlife. Here is a picture of a church I found lovely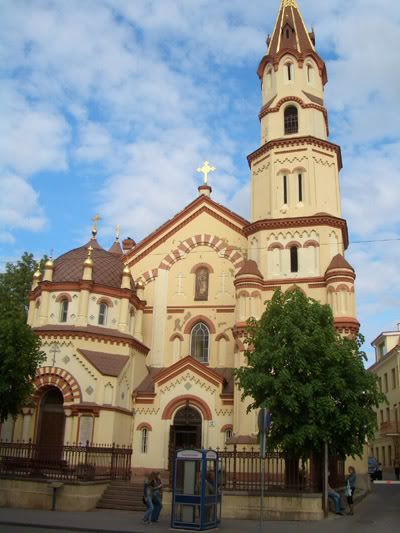 The center of town is a bit difficult to navigate as again streets are not in a grid, but with a decent map you should be able to get around fairly easily. I stayed at the Vilnius Backpackers Hostel which was in a great location, not too far from the bus station, and right off a main pedestrian street filled with Cafes and Resturants. The cost was about $13 US per night, a good deal, the only problem was slight lack of bathrooms, one on each floor, and each floor housed about 12-15 people if full. I only spent one night here, and then traveled to Kaunas for one night there. Vilnius is by far a more exciting city, I found Kaunas to be rather dead and dreary, yet Kaunas is suppose to have more students so during the university year it could be very active, in the summer I found it dead.
Vilnius has some great club/resturants, I was there on a Wednesday night, so it was in a way the start of the party week. Like most of europe things dont get started till much later. I sat at a really colorful nice resturant called Dienos Naktys(no idea what it means) at about 6pm and it was empty, but I was able to enjoy my lunch/happy hour beer. The main beer is choice seemed to be Kalnapilis, a very tasty golden beer, cheap at only 7 Litas(about $2.50 US).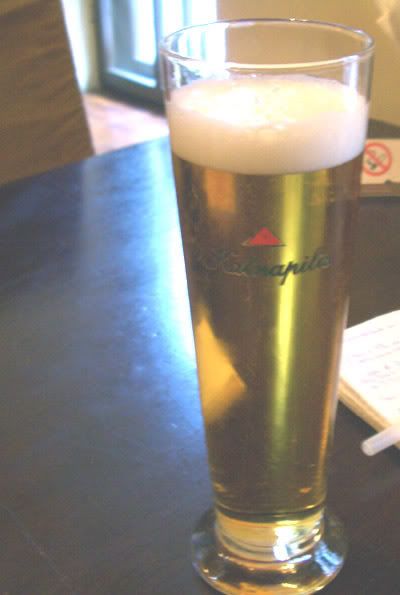 I also found my first microbrew and one of the few in the Baltic at this place named Avilys, I enjyoed their half liter of the Honey Lager, yet I couldnt taste much of a honey taste. This was a nice basement cosy place with supposed great food, it was 11pm at night or else I would have sat outside as it was a bit chilly at night, but the basement was cozy and comfortable for a quick brew.
Only having one night in town, I wanted to try to find cool places, but I was struggling as my guide book has very little info on Lithuania. After I left the microbrew, I found a place called Pablo Latino on Turku St, It is a very very nice joint, with a big upstairs room and then a deck that overlooks an inside Patio. It was closing at 1am, so I only had a bit of time there, but it was funny to see that Salsa dancing is the rage everywhere in the world, even where there aren't too many Latino people as in Lithuania. In fact I only saw one minority other than me, and he was this tall lanky brother, like over 6"5 walking down the street, and looked like he was African. I figure he must be an import on a local basketball team, as Lithuania is HUGE on basketball. Winning the Bronze medals in the summer olympics in 1992, 1996, and 200. They also won the European Championship in 2003, and there are several good/high paid Lithuanians in the NBA including Žydrūnas Ilgauskas for the Cavs, partnering with LeBron James for a solid pairing for the future. Don't be shocked the next time the USA Basketball team disappoints at a world event, it loses to Lithuania and people are like who? where?
Ok back to hanging out, first thing I realize at Pablo Latino that will be a theme for the rest of the night, Lithuanians LIKE TO DRINK, and the women especially can DRINK. At the bar a man/woman couple were doing flaming shots of something, so you know it was strong stuff, she was downing them with no problem.. I leave that place at 1am and head back a few blocks to the hostel, ready to call it a boring night, there are some people there staging to go out to this bar/pub open to 6am. I'm like what the heck, only got 1 night here. We posse up and head out to
Prospekto pub
right up the street to this big church.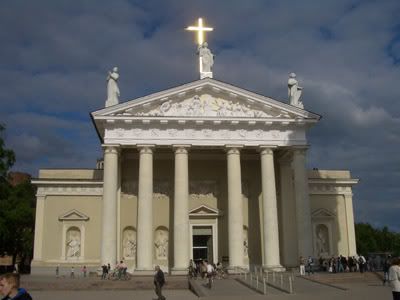 Its good the church is there as after a night of what is going on in the Pub, you might need to run to church when the pub closes at 6am. This is an awesome bar, with multiple floors, there are 2 stripper poles attached to the top of the bar, and these get a good workout, as in Lithuania being a stripper is a job you can make alot of money at, and there are PLENTY of establishments to show your skills you have learned here.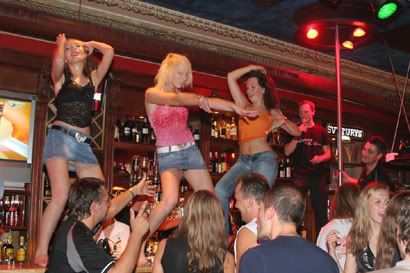 The cover was 10 Litas($3.50 US) for any male foreigners, but seemed to be free if you could speak soem Lithuanian. Beer was well priced, if you could get to the bartender as the place was PACKED this night, I guess being the only place open so late its the spot to goto. The night seemed to start off slow, but when Usher came on, the folks all jammed the dance floor, if Usher only knew he was a big thing in Lithuania he would go there and might not come home. I gotta say not many brothas hanging in Lithuania so you are a HOT commodity, people seem to like what is different from them. And considering they are mostly young, tall, skinny and blond, I was rather different.. I had the skinny and hopefully young part down tho..
Another song that seemed to get the crowd going much to my shock was Tina Turner's "Simply the Best". Maybe its a motivational thing..The music was varied including some Lithuanian pop songs, Lithuanian hip hop and Euro techno trash. Now the drinking, I was sticking with my normal beer, but after noticing people were buying bottles of vodka and drinking it straight. Unlike clubs here in the states with Bottle service that after you get ripped off for a $300 dollar bottle of Vodka, at least they give you free juice and keep it on ice, not so here. You paid only about $20 for the bottle of vodka, but got it warm, like straight out of the case. You had to buy your own OJ, or Cranberry.. so what did the locals do, DRINK IT STRAIGHT WHILE WARM.. I must say I tried as the locals, and couldnt get a sip of this cheap vodka down, without the thought of throwing up all over my new friends and causing an international incident. So in this picture below, that is the bottle of VOdka I am holding up, but no way was I drinking it all night, I stuck with the cold beer.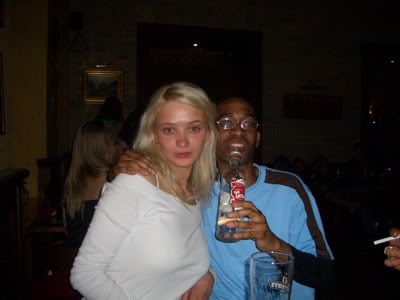 Oh and for those wondering her name is Jurgo, and like most everyone there they speak PERFECT english, almost rivaling the Dutch. Finally left at closing time, at 5:40am with the sun up high in the summer Baltic sky, the DJ played "One" first the U2 version and then the Johnny Cash version and then it was time to go home and pretend to get some sleep. The next day sucked for a variety of reasons, and while I am sure Kaunas is a nice place, I'm going to skip writing about it, as its a day I want to try to put in my past forever.
As for getting to Lithuania, first off get a good guide book specific to at least the 3 Baltic Countries,
Lonely Planet
does a good job as someone at the Hostel had this, and while I was leaving the Baltics I spent some time looking thru his book. There are no direct flights from the USA, but check out Air Baltic, who I flew and has flights from London, Germany, Ireland, even Austria to get you to Vilnius. I would say for partying this along with Riga are great.. and oh yeah there is some culture in the daytime, including a statue of Frank Zappa's head on a tall stick.. yeah its strange I saw it, didnt understand it, but oh well..